Ceramic crown - bridge technique (so called "white" aesthetics)
Mucogingival Surgery - or Plastic-Aesthetic Gum Surgery
BLEACHING OF TEETH
Powerbleaching
Concentrated hydrogen peroxide or carbamide peroxide are able to bleach enamel quickly and effectively – the effect is noticeable after only one session. For this procedure the gums need to be protected by a mask against chemical burn. Length of session approximately one hour. All studies to date have shown no negative effects when used on healthy teeth. One possible temporary side-effect is an increased sensitivity of the neck of the tooth. Not every type of enamel is lightened to the same degree (red-brown enamel does not respond as well to lightening).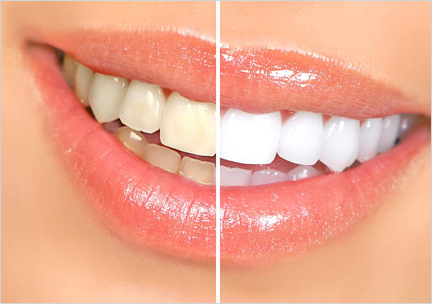 Home Bleaches / Bleaching to go
As available in dental trade, they show a result only after extensive, longer term use.
Can be used as a supplement to POWERBLEACHING.
Gum mask made from silicone = Epithese
"Artificia" gum mask made from red-colored silicone covers long tooth roots, for example after shrinkage. Must be removed occasionally for cleaning. The bite must be free of any inflammation. Aesthetically pleasing.
Boxer Protection
Soft plastic mouth guard that is placed over the teeth and used mostly in contact sports.