Today missing teeth in the anterior or posterior region of the jaw can be replaced safely and long lasting with implants.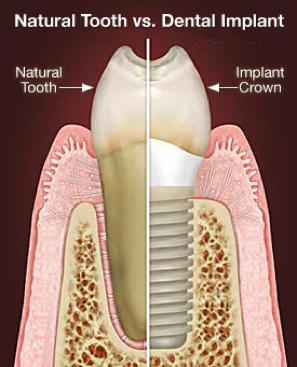 Without dental implants, missing teeth have to be replaced with removable dentures and bridges on neighbouring teeth. But with dental implants healthy neighbouring teeth remain intact.
Do you want only fixed teeth?
Implants are the solution that allow me to provide you with a reliable long-term fixed solution for missing teeth.
With state of the art dental implant procedures it is now often possible to remove a hopeless tooth and insert an implant in just one surgical procedure (see immediate implantation) and replace the missing crown immediately (immediate loading).
Advantages of Dental Implants
Your healthy, neighbouring teeth do not have to be treated
Implants or implant crowns and bridges are fixed and do not need to be removed
Removable dentures are often the cause of embarrassement – not implant retained dentures
Feel save while speaking and eating – sometimes a real challenge with removable dentures
The cost of a single implant restoration is comparative to having a 3 unit bridge
Dental implants are a long term solution – most often a life long solution with the right after care (see implant prophylaxis / professional implant cleaning)
A predictable restoration technique