If you are missing all of your teeth, an implant-supported full arch bridge or implant retained full denture can replace them. Dental implants will replace both your lost natural teeth and some of the roots.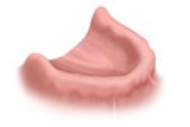 Before the availability of dental implants - replacing all your teeth - meant removable full dentures. Dental implants are the solution that your next set of teeth are permanently fixed and look and feel like natural teeth. The placement of multiple strategical positioned implants around the jaw form the foundations for a full set of beautiful fixed teeth.
Each case must be carefully planned and considered on an individual basis. The amount and quality of bone must be measured with the help of DVD scans. In case of atrophied jaws (bone loss), the direction of any bone and soft tissue loss must be carefully evaluated. Availability of bone will finally decide the number of implants and implantation techniques, as well as the material and reconstructive kind of your new teeth.
Main types of full arch implant supported teeth replacement:
A) Full arch fixed implant supported bridge
B) Implant retained overdentures
C) All on 4 concept
full arch fixed implant supported bridge
For dental implants with dental bridges - the dental implants act as new tooth roots with a fixed dental bridge over these dental implants. With this dental implant teeth option - it is similar for the patient to having a new set of teeth, only this time on implant posts.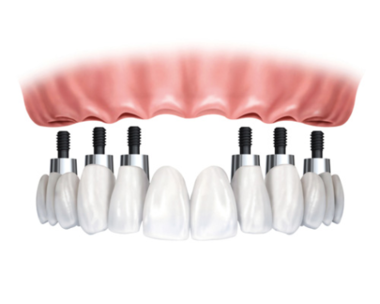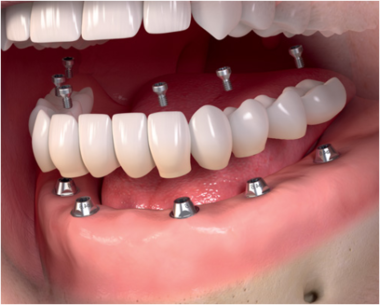 Main benefits of full arch implant bridges
A fixed, stable & secure solution
A long lasting solution, often for life
no more loose dentures, especially in the mandible (lower jaw) – improved quality of life
Full arch dental implant bridges are the only fixed alternative in situations where no teeth are present for anchoring.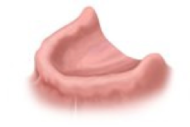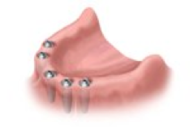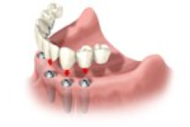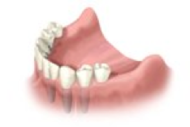 A full arch fixed implant bridge is the closest to natural teeth and over time will just feel like natural teeth. They will provide you the comfort and natural look like a full set of natural teeth.
Implant retained overdentures
An implant-supported overdenture is a full denture that is supported by a variable number of dental implants.
Especially in lower jaws or highly bone atrophied upper jaws full dentures that only rest on the gums, where no supporting teeth are left, tend to fit less firmly and come loose easily.
Implant supported overdentures are provided with special attachments that retain them on implants providing more stability and therefore a more carefree life with dentures.
Benefits of Implant retained Dentures
Implant retained overdentures provide you with more stability in comparison to conventional dentures
allows you to eat nearly all kind of food and avoids uncomfortable situations while speaking
upper jaw overdentures no longer have to cover the palate of your mouth
dental implant overdentures are the financially economic alternative in comparison to full fixed bridges

Types of Implant Supported Overdentures
Basically there are two types of implant retained overdentures - dental implants with a bar or ball overdenture. The overdenture is removable and can be cleaned.
Bar-retained: The normally placed implants are connected by a thin metal bar that follows the curve of your jaw. A minimum of two (up to five implants) have to be inserted in your jawbone – the more implants the better the resulting stability of your denture. Various other attachments can be fitted into the bar to heighten denture stability.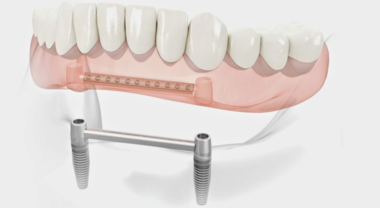 Ball-retained: The inserted implants are fitted with ball shaped or similar attachments that fit into the counterpart in the overdenture.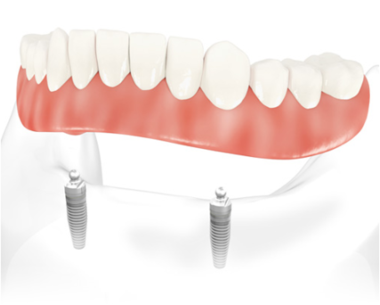 all on 4 concept
The All on 4 dental implant treatment is a revolutionary cost-effective technique that enables us to replace all your teeth with just 4 implants.
It has been developed for patients who lack sufficient bone volume and are not willing to undergo a cost and time consuming bone grafting procedure prior to implant placement.
The All on 4 makes maximum use of your bone in the anterior jaw and by tilting the two posterior implants at a 45° angle an immediate function prosthesis can be provided on the same day – also known as 'teeth in one day'.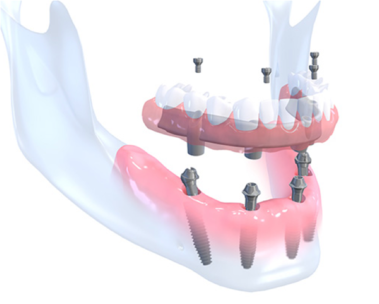 Who benefits most from All on 4
Patients who have loose fitting full or partial dentures, due to severe lack of bone, will get back a quality of life like with a full set of natural teeth - for most patients an overwhelming, positive experience.
Patients with severe periodontitis affected teeth
Patients with only a few badly infected/decayed teeth left
What means 'Teeth in a day':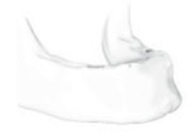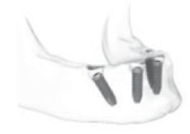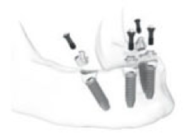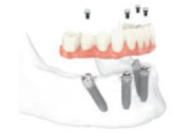 The All on 4 immediate function technique can be done in one day:
remaining teeth can be extracted before implant placement (all in one surgery)
fixed (non removable) acrylic provisional denture is provided on the day of the surgery
The all on 4 bridge/denture replaces not only your teeth (like in a fixed implant bridge in patients with an abundant bone situation) but also your missing jaw bone and gums (the pink part of the bridge).
If indicated a guided surgery can be done

The provisonal acrylic bridge of the surgery day should be replaced after a healing in time (osseointegration of your implants) of about 3 - 6 months by a definitve long term all-on-4 bridge solution. The better the material of the reconstructive solution - the better can be created a look and feel like sensation like with natural teeth – starting from a metal reinforced high impact acrylic bridge, to solutions involving titanium and zirconium hybrid bridges.
All on 6 dental implants: the same as all on 4 but with one additonal implant in the pterygoid region of the upper jaw.